Continuing from last month's topic of disaster recovery plans, we are pleased to share some fantastic news: Codus IT has been assigned the title of Veeam Cloud & Service Provider Silver Partner.

Since 2006, Veeam® has been the global leader in Backup that delivers Cloud Data Management™. This entails backup and recovery, cloud mobility, monitoring and analytics, orchestration and automation, and governance and compliance for all data. Their mission is to make sure that data is always available, protected, and actively working for businesses across the globe. Therefore, regardless of where customer's data resides — virtual and physical systems, SaaS and IaaS services, hybrid cloud or multi-cloud — the platform helps hundreds of thousands of companies keep their businesses running.
Veeam Platform Overview
In this new reality, where data is located across many different clouds and systems, ensuring availability becomes far more critical and challenging. The same holds for getting visibility into data — regardless of where it resides or the networks where it moves. Some businesses struggle just to know where all their data is located. It is even more challenging to be certain that data will be recoverable in the event of a disaster.
Availability of data today is based on mechanisms where data is often manually relocated to optimise cost and performance or to recover from a ransomware or security intrusion. Tomorrow's availability must evolve to a more autonomous model, with a system that reacts and adjusts automatically to significant changes in the behaviour of data, apps, or users.
This level of automation is a big leap from where we are today. How can customers bridge that gap from where they are to where they need to go?
Veeam Cloud Data Management Platform is the best solution to help customers accelerate business agility. This is possible through automating core backup and recovery capabilities while enabling intelligent data orchestration, monitoring, governance and security.
Veeam 5 Capabilities of Cloud Data Management
The diagram below illustrates the Veeam 5 capabilities of cloud management: Backup & Recovery, Governance & Compliance, Orchestration & Automation, Monitoring & Analytics, Cloud Mobility.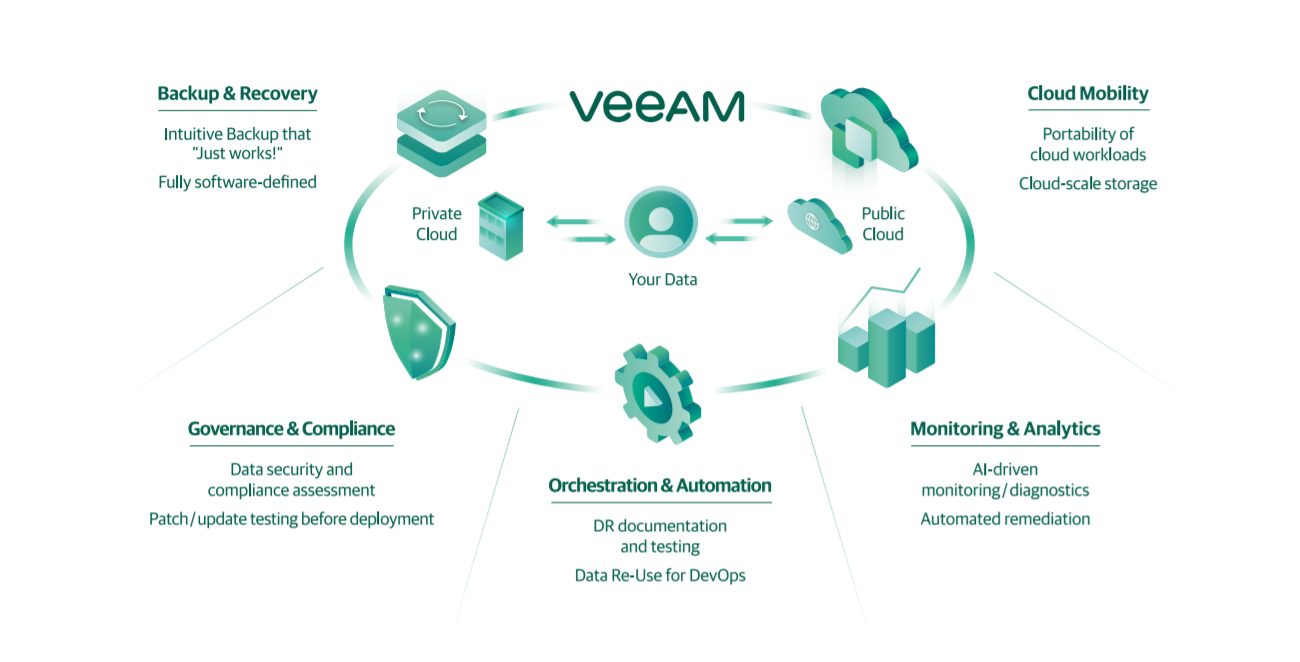 Microsoft and Veeam: Seamless Integration with Microsoft Azure
Microsoft and Veeam® provide tightly integrated solutions for enterprises of all sizes, enabling availability for virtual, physical and cloud-based workloads. It eliminates complexity and simplifies business continuity between your business data centre and Microsoft Azure.
Two-step Portability to Azure: Maintain business continuity by easily migrating and recovering workloads in Azure
Backup Azure Workloads: Protect all your Infrastructure as a Service (IaaS) workloads with the same proven Veeam solutions you already use
Long-term Data Retention in Azure: Reduce long-term data retention costs by tiering data to the cloud as it ages
Backup Office 365 to Azure: Reduce costs and leverage unlimited storage capacity by backing up Office 365 data to Azure
With over 100 industry awards, 365,000+ customers and 70,000 partners, Veeam® Cloud Data Management™ Platform is the most complete solution to help our customers evolve the way they manage data.
Organisations that run on Veeam Cloud Data Management Platform gain multi-fold improvements in efficiencies. They enjoy a far greater agility to respond to business needs and deliver new digital services. Veeam solutions receive the highest customer-satisfaction scores in the industry, 3.5x the industry average, for their simplicity, flexibility, and reliability. "It Just Works," as hundreds of thousands of customers have said.
It's a single platform for cloud, virtual, and physical to meet all your needs. It helps customers on the journey to modernizing their Backup practice. As a result, it also accelerates hybrid cloud, and adheres to data security and regulations.
Together, we make sure data is always available, protected and actively working for your business.
Speak to our team today on 0161 763 4529 or email us at hello@codus.co.uk to learn more.